Commercial Solar
Smart businesses and organisations realise that a solar energy panel installation is an investment that pays for itself. The Australian climate, with an abundance of sunny days, is perfect for solar installations as the solar panels make their energy during the day at the same time when most businesses consume their power.
SolarBright has a successful track record of hundreds of solar energy projects ranging in size from 20kW to 300kW. Our process is to analyse your current power usage then design and install a solar energy system to suit your business power needs and budget.
As part of the design process we model the solar system production to estimate your savings each year and the pay back time. This will give your finance team the information needed to look at financing the system or buying it outright.
Our approach is consultative, to work with our customers to achieve successful outcomes for our commercial customers by installing solar.
Under the Default Market Offer The Australian Energy Regulator increased power prices for small businesses in NSW by up to 21% on 1 July 2023.
There has never been a better time to look at solar for your business.
What Industries Suit Solar Power?
Any business that has a non-shaded roof space in sound condition is suitable for solar.  SolarBright commercial customers that have saved thousands off their power bills include businesses and organisations in these sectors of the economy:
Agricultural businesses
Car dealers
Child care centres
Churches
Commercial office space providers
Engineering and automotive workshops
Motels and hotels
Joineries
Frozen food and grocery businesses
Manufacturing and warehouse facilities
Schools and colleges
Retail businesses and service stations.
Image Opposite: 30kW system installed by SolarBright at the Gold Panner Motel Bathurst.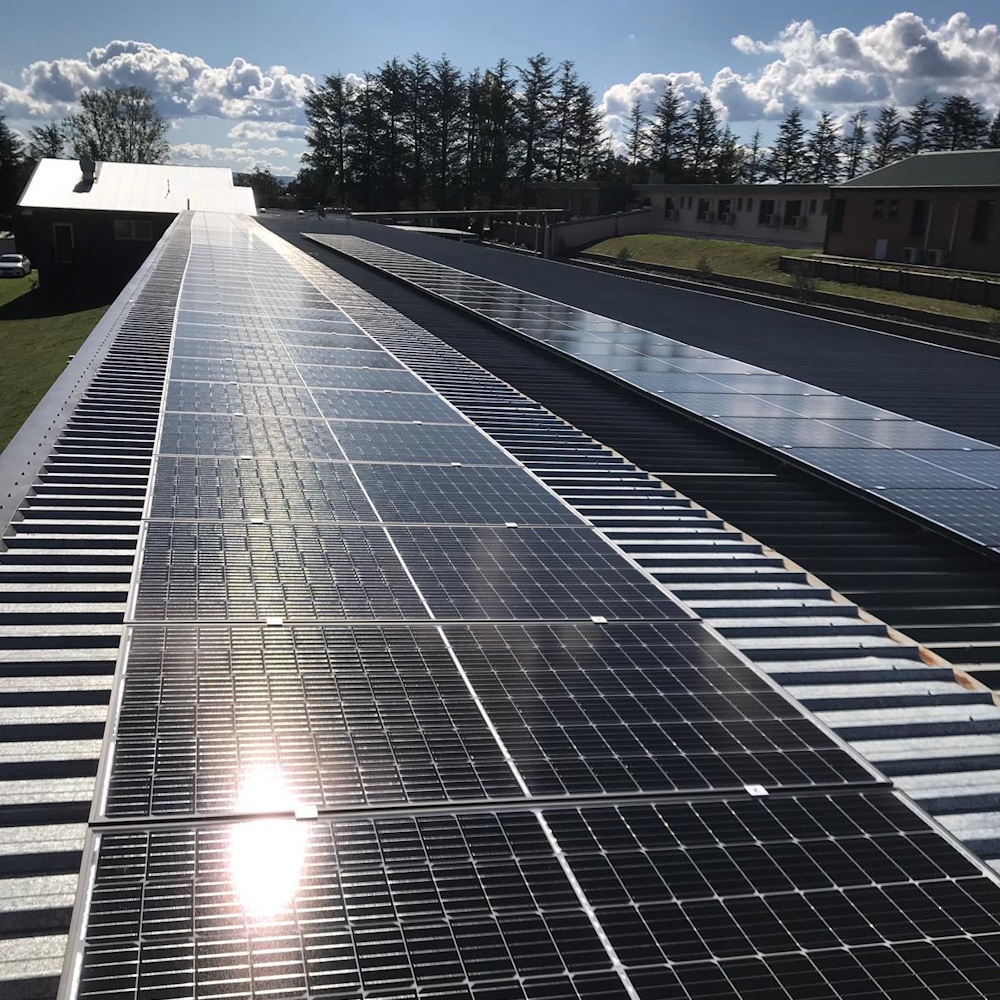 Savings Pay for the System
Why Install Solar Commercial Systems?
Your business or organisation can afford solar if you can pay your power bills. The savings off your power bill will pay for the system. If you finance the solar system in most cases the savings will cover the repayments and be cash flow positive. Solar energy system is a smart business investment.
The main reasons to install solar energy system for business are:
Solar energy pays for itself – the savings will pay for the system
To insulate the business from rising power costs
If financed in most cases the savings cover the payments and are cash flow positive.
If financed the payments may be tax deductible (always get professional financial advice)
It is great for the environment and enhances your organisations green credentials.
Cost Pressure on Businesses
Electricity Prices Rising
In July 2023 the Australian Energy Regulator (AER) released the new yearly Default Market Offer (DMO). The DMO sets the maximum price that an electricity retailer can charge their customers that are on standard retail plans. It acts as a pricing safety net for the year.
The DMO saw businesses in NSW on standard offers face price rises of up to 21.6% 
The Regulator identified several factors that drove these rises including:
Higher costs for coal and gas supply
The closure of the Liddel power station
Reliability issues with ageing coal fired power stations
Increased customer demand at peak times
Increasing network (transmission) costs.
With the challenges facing electricity generation and transmission set to continue, the outlook is for further price increases to come.
Free Solar Assessment
SolarBright can analyse your current power usage, demonstrate the financial benefits, and design and install a solar energy system to suit your business. Act now and help secure your energy future.
Commercial Solar
SolarBright Projects
Since 2008 SolarBright has installed thousands of residential and solar commercial systems across Sydney and NSW. Here we showcase a selection of our commercial systems from the straight forward to the technically challenging, delivered by our skilled commercial team.
Size: 79.7kW Location: Mulgrave
80kW Albatech Pty Ltd
Albatech are an advanced manufacturer of low environmental impact Evcco electrical conduits and fittings. As this manufacturing is energy intensive, Albatech investigated installing a solar power system.
The key drivers were to help insulate the business from increasing electricity prices and to reduce the energy costs to the business.
SolarBright was chosen as their solar power unit provider to design, install and commission the large system required.
The project required the installation of 192 Max Power 415W panels on their manufacturing plant by the SolarBright team.
Size: 60.2kW Location: Moore Park
60kW Moore Park Gardens Apartments
This was a highly challenging solar energy unit installation atop two seven storey apartment blocks in the prestigious Moore Park Gardens complex.
The strata committee wanted solar installed to boost their environmental credentials and reduce the costs for powering the common areas.
The single 60.2kW solar system consisted of two 30kW systems, one on each of the buildings, nearly 100m apart. This presented serious technical challenges for SolarBright.
The skilled team had to design, manufacture, and install custom switchgear as part of the solution for this complicated solar project.
Size: 24 x 3.5kW Location: North Richmond
North Richmond Housing Development
SolarBright was chosen by the builder to provide the solar systems and skylights on this residential housing development to meet BASIX requirements for each of the dwellings.
SolarBright designed and deployed the solar systems on separate houses during the build stage of the project, coordinating with the builder and installing the systems to meet the required deadlines.
Each installation was carried out in two stages. Pre-wiring was done first when the house was being wired after framing had occurred.
When each house was roofed SolarBright returned to site to lay the panels and complete the install.
Size: 33.2kW Location: Warrawee
33kW Warrawee Public School
This mid-sized installation on a single level public school building in Warrawee is very representative of the many commercial systems SolarBright has designed and installed on colleges and schools across NSW.
This work was undertaken on behalf of a building client for the Department of Education with SolarBright responsible for the design and installation of the solar energy system to suit the needs of the site and school.
This installation was completed by the SolarBright team over one weekend to minimise any disruption for the school.
Size: 300kW Location: Pymble
300kW Commercial Office Buildings
This was another challenging, large solar power project undertaken by SolarBright. The 300kW system is installed across three separate commercial office buildings on the same campus.
The building owners were looking to reduce their outgoings on electricity and increase sustainability.
Each of the buildings was four storeys high, and the system needed over 900 panels installed. The risk could not be taken to compromise the roof top water-proof barrier. All of the panels were therefore mounted on non-penetrative ballast mounting system.
Again, SolarBright successfully delivered this large scale solar project on time and on budget.
Size: 39.2kW Location: Ingleburn
40kW Designer Concrete Coatings
Designer Concrete are an industry leading provider of designed and textured concrete finishes for the building and construction industry.
They are another energy intensive business that was seeking to reduce their power costs and increase profitability.
When looking into solar they approached several solar providers with commercial project experience. Due to our record and reputation SolarBright was selected as their solar energy system partner.
It was a very straightforward project for the team to design, install and commission the mid-sized solar system on their operational facility.
This system is very typical of many systems we have installed on warehouses and manufacturing facilities across NSW.
Size: 99.9kW Smithfield
100kW Demast Liquid Waste
With many years' experience in the waste industry, Demast specialise in liquid waste disposal and reclamation. This process is very energy intensive and electricity is a major cost to the business.
Faced with the challenge of increasing electricity prices Demast looked to solar energy. To reduce power costs Demast wanted to install the largest solar
system they could on the roof.
After going to market and undertaking due diligence, Demast chose to partner with the skilled SolarBright solar power system team.
The team successfully designed, installed, and commissioned the large 100kW solar-powered system on their facility – again to the customer's on-going satisfaction.